How four Torah-observant doctors created a veritable blood bank for COVID research, and created a global kiddush Hashem in the process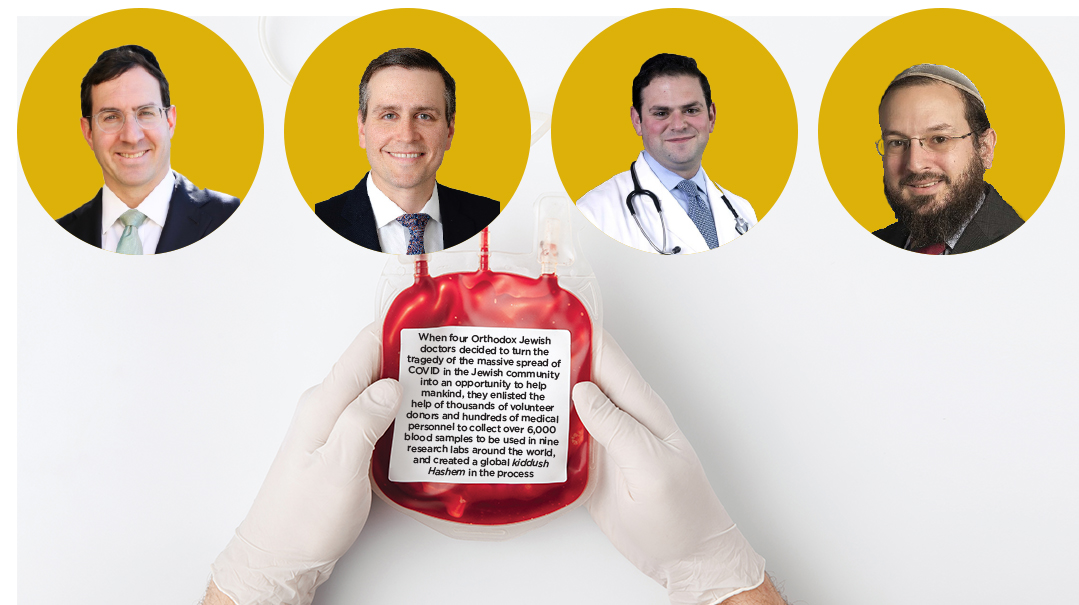 As a teenager in London. Rabbi Mordechai Miller, later the long-time principal of Gateshead Seminary, used to learn after school with Rav Eliyahu Eliezer Dessler. Rav Dessler told his young talmid that he should always go to the upper deck of the double-decker bus for the one-stop ride to his apartment. He explained that since Mordechai would only be on the bus briefly, perhaps the conductor would not reach him in time to take his fare. Then he — an identifiably religious Jewish young man — would say in a loud voice to whoever was seated near him, "The conductor did not take my fare. Here it is. Could you please give it to him when he gets here?" Rav Dessler's lesson was startling: It is not enough that our behavior, wherever we find ourselves, should make a kiddush Hashem. We must actively seek out opportunities to create a kiddush Hashem.
How did a small group of Orthodox Jewish doctors manage to turn the past year's tragic, extensive spread of the coronavirus in Orthodox communities into an opportunity to learn more about the virus through research, and create a kiddush Hashem in the process?
As the virus spread with lightning speed within a week of Purim last year, a main concern of Brooklyn pediatrician and Philadelphia Yeshiva graduate Dr. Israel (Sruli) Zyskind was to get out as much information as possible to a population desperately searching for guidance, and to alert the Torah leadership to the dangers ahead. He also created a WhatsApp group called OrthoDocs, together with his friend Dr. Jason (Shimshi) Zimmerman, an emergency room physician, who serves as the medical director of Hatzolah of Central Jersey and Chevra Hatzalah of New York, in order to facilitate sharing the most current information about the pandemic among Orthodox doctors.
Through OrthoDocs, Dr. Zyskind reconnected with his old friend Dr. Avi Rosenberg, a professor and researcher at Johns Hopkins Medical Center. (Dr. Rosenberg is also a mohel, who travels widely to perform particularly intricate brissim.) The two had been pre-med students in Brooklyn College together while also learning in yeshivah, and now, more than 20 years later, they were in constant contact, even as each was besieged with phone calls and emails from those seeking advice. Many of their conversations centered on the negative publicity directed at the Torah community over the high rates of COVID-19 infection, and what could be done to counter that publicity.
A conference call that took place on Yom Tov of Acharon Shel Pesach (April 16, 2020) reflected how dire the situation was for both the Orthodox community in the tristate area and the general public, having been pounded daily by one painful loss after another. On that call to discuss the potential use of blood plasma drawn from recovered COVID-19 patients were three askanim who had created the COVID Plasma Initiative — Chaim Lebovits, Mordy Serle, and Mordechai Swiatycki; Rabbi Yehuda Kaszrirer of Lakewood's Lev Rochel Bikur Cholim; and senior doctors from a number of New York City area hospitals. They were on the line with Dr. Michael Joyner of the Mayo Clinic, which had been appointed by the FDA to take the lead in investigating the use of blood plasma for treating COVID. Rabbi Kaszirer would say later of that call, "The Gemara's words, 'shochtim l'choleh b'Shabbos,' took on new meaning."
At that time, the Mayo Clinic had one of the very few assays in the country capable of testing antibody levels in drawn blood. Dr. Joyner committed to testing at least 1,500 hundred vials, estimating that it would probably take two weeks to collect blood from that many donors. Yet just three days later, with a Shabbos in between, Lev Rochel drew blood from 1,400 recovered donors in Lakewood alone, even as it was dealing with hundreds of cases of desperately ill COVID sufferers. That effort required setting up 16 tents on an open field to preserve social distancing, and making sure that sufficient numbers of medical personnel, tubing to draw the blood, and centrifuges to spin it were on hand. As soon as the blood drawing was complete, Rabbi Kaszirer was on a private plane with the precious tranche of vials en route to the small airport in Rochester, Minnesota, home of the Mayo Clinic. When Rabbi Kaszirer landed, Dr. Joyner pronounced himself "shocked" by the single day's exceptional turnout.
That blood plasma drive set off a light in the heads of Drs. Zyskind and Rosenberg. As a research scientist specializing in renal pathology, Dr. Rosenberg knew that hundreds of labs around the world were being repurposed to engage in COVID-19 research. And they would all need blood samples for their work. The Orthodox community had just demonstrated that it could be a major source of blood for study, and here was an opportunity to leverage the community's strengths — its idealism and volunteer spirit and ability to organize quickly — to convey a succinct but powerful message: "We care about our neighbors, we want to be good citizens, and we want to advance science in order to reduce human suffering."
And that's why they created an initiative called MITZVA Cohort — an acronym for the Multi-Institutional Study Analyzing Anti-CoV-2 Antibodies — to spur medical research on COVID-19 by making available to leading researchers blood and saliva samples taken from Orthodox Jews.
Dr. Joyner's high opinion of the capabilities of the Torah community was of crucial importance. He described this community to me as "simply catalytic" [in getting the blood plasma research going]. There are a ton of really bright people, who can get organized rapidly because of their social networks, and who are generous with their time and will take off from work as necessary. We bonded over our shared attitude of 'Don't let what you can't do interfere with what you can do.'"
And if Dr. Joyner was "shocked" by the post-Pesach plasma drive, he was totally taken aback when over 3,300 Orthodox volunteers came forward in Lakewood on May 17 to donate blood and have saliva samples taken on behalf of the MITZVA Cohort. And all without a logistical hitch. Dr. Joyner describes those behind the project as "Really smart and motivated people; doers who do what needs to be done."
The Bikur Cholim of Lakewood's advertisements for the drive urged residents to "Join fellow Yidden in this historic opportunity to make an unparalleled kiddush Hashem by giving back to science . . . and, potentially, save tens of the thousands of lives..."
Over time, the Mayo Clinic would run assays on close to 8,000 blood samples collected from the Orthodox community for free. At $70 per assay, those assays were valued at well over half a million dollars.
Treasures in a Vial
Prior to the May 17 blood drive, Drs. Rosenberg and Zyskind had already begun work on a questionnaire seeking information that could be of use to investigators, such as the nature, duration, and severity of symptoms in those identified as having had COVID-19. But when it became clear that the MITZVA Cohort would be amassing an enormous amount of data, they realized they needed to add an epidemiologist to the team. To do so, they had to look no further than their own group of pre-med friends from Brooklyn College to come up with the sought-after number-cruncher: Dr. Jonathan (Nechemia) Silverberg of Baltimore, director of Clinical Research at George Washington University, who also holds a master's degree in public health and biostatistics, in addition to his MD and PhD. The fourth member of the team is Dr. Shimshi Zimmerman, whose wide array of connections in the Hatzolah world would prove invaluable.
Dr. Silverberg worked together with Dr. Aaron Glatt — a professor at Mount Sinai's medical school and medical director at South Nassau Medical Center, in addition to being associate rabbi at the Young Israel of Woodmere — to refine the questionnaire to ensure that it would contain the most crucial evidence for investigators.
Eventually, 9,507 volunteers answered the questionnaire on line, and between May 14 and May 30, 6,665 people donated two vials of blood — one for antibody testing and another for research purposes. About 2,000 saliva samples were gathered as well. The extra vial taken from each donor went to Dr. Rosenberg's lab, where he "plated" the samples — a more efficient means of storing samples and one that allows the same samples to be shared by multiple laboratories.
Blood drives were organized by chesed organizations such as Achiezer in Nassau County, Hatzolah of Flatbush, Hatzolah of Detroit, Hatzolah of Los Angeles, Yachad D'Bobov, and Chabad of New Haven, in eight Orthodox communities: Lakewood (3,323 volunteer donors), Brooklyn (1298), Nassau County, New York (754), Los Angeles (684), Detroit (334), with smaller cohorts in Sullivan County, New York, and New Haven, Connecticut.
The first result of the large-scale data collection was a peer-reviewed study that appeared on the Journal of the American Medical Association (JAMA) Network, one of the most respected and widely read medical journals in the world, entitled "SARS-Cov-2 Seroprevalence and Symptom Onset in Culturally Linked Orthodox Jewish Communities Across Multiple Regions in the United States." Dr. Zyskind was the lead author, and 10 of the 14 listed authors were Orthodox Jews, including all four members of the MITZVA Cohort.
The JAMA study's most striking finding was that in each of eight geographically distanced, yet sociologically linked, communities, both the mode and median dates of symptom onset fell within a week-long period shortly after Purim. That creates a presumption that the communal gatherings and festive meals on Purim were the primary occasion for transmitting the virus. And, as the study notes, there were no government warnings or edicts against such communal gatherings on Purim. While the 6,665 Orthodox individuals tested did show a high level of seroprevalence (meaning they tested positive for COVID-19 antibodies) — around 30 percent in most locations — that high rate cannot be attributed to ignoring government directives, since there were none. (Before submitting the JAMA paper for publication, the authors consulted with numerous rabbanim to ensure that it would not place the Orthodox community in a negative light.)
The MITZVA Cohort team is continuing to mine the treasure trove of information in the over 9,000 survey responses and to conduct its own research. Dr. Rosenberg, for instance, has retested 169 individuals with the highest antibody levels to determine the rate of decline in antibody levels over time.
A follow-up survey has been sent to all those who took the first survey in order to gain information on "long-haulers" (those with long-lasting COVID-19 symptoms), recurrences of COVID, reactions to vaccines, and the like.
Customized Samples
The greatest impact of the MITZVA Cohort, however, has been through the research it made possible in some of the top laboratories in the world. Dr. Rosenberg, a highly respected researcher himself, is also a natural networker, and is at the hub of a network of his own former post-doctoral students around the world, in countries like Italy (where COVID-19 hit with devastating force early on), Germany, and Israel.
Among the distinguished researchers Dr. Rosenberg drew to the project is Galit Alter, PhD, a professor at Harvard Medical School and director of a lab in the Ragon Institute, under the joint auspices of Harvard, MIT, and Massachusetts General Hospital. She, in turn, brought in University of Pennsylvania Professor of Microbiology Michael Betts, an internationally recognized immunologist. One of the current research topics of Dr. Betts' lab is the role of the responses of T and B-cells, two crucial components of the adaptive immune system, in asymptomatic adults and adolescents. Only through the MITZVA Cohort, he told me, was he able to obtain blood of asymptomatic individuals and adolescents.
Tel Aviv University's Professor Yehuda Shoenfeld, co-editor of the Journal of Auto-Immunity and author of close to 2,000 scientific papers, joined together with his Iranian-born and Israel-trained colleague, Professor Aristo Vojdani of UCLA. Researchers have noted a correlation between COVID-19 and autoimmune responses, which can take many forms, with the body's own immune system attacking muscle tissue, heart tissue, the gastrointestinal tract, or the brain. Professor Vojdani notes that when measuring antibody reaction to tissue antigens, the normal rate of autoimmune reactivity is around three percent. After COVID-19, that rate climbs to 20 percent.
Another beneficiary of the samples was Dr. Lori West, director of post-operative treatment of infant recipients of heart transplants at the University of Alberta, one of only 30 or so centers that perform such transplants world-wide. As such, she is an expert in blood types, which have been linked in some studies to differing susceptibility to COVID-19.
Three of Dr. Rosenberg's own Johns Hopkins colleagues are among the directors of labs that benefitted from the MITZVA Cohort. Professor Jonathan Schneck, his colleague in the Department of Pathology and a fellow Orthodox Jew, heard Dr. Rosenberg's presentation in the department and realized that his lab could benefit greatly from access to the blood samples collected. One of the reasons that the Cohort decided to collect saliva samples, as well as blood samples, was the research of another Johns Hopkins professor, Dr. Chris Healey, whose research involves comparing COVID-19 antibodies in saliva to those in blood.
The latter is an example of the MITZVA Cohort's ability to deliver custom-made material to different labs according to their research needs. Because of the data collection that went along with the physical blood samples, the Cohort could respond, for example, to a request for the blood of 400 patients who suffered oxygen deprivation, 400 who developed high fevers, 400 who reported muscle aches, and 400 who were asymptomatic. Dr. Rosenberg's Johns Hopkins Medical School colleague Dr. Ben Larman, who is studying the possible ways in which COVID-19 may interfere with crucial proteins in the body's immune system, was delighted to be able to receive the blood of a young man who had a severe reaction to the virus, even though he had none of the known risk factors.
The Most-Studied Virus
Prior to speaking to the researchers involved with the MITZVA Cohort, I had no idea of all the manifold ways in which the mystery of the COVID-19 virus must be approached. It has now replaced the HIV virus as the most studied human virus.
At least two of the researchers with whom I spoke noted that while there are diagnostic tests for COVID-19, there are, at present, no diagnostic tests that can predict how severe the patient's reaction to COVID-19 is likely to be. Yet that information would be crucial, particularly in an emergency room setting, where decisions about priority of treatment must be made in a flash. Dr. Schneck is currently working on developing such an assay.
One clue might be how robust the immune system's T-cell response is. As Dr. Schneck explains, there are two levels to the immune system: The innate immune system, which effectively responds "Danger, danger, all hands on deck," in response to the presence of a pathogen, and the adaptive immune response, consisting of B-cells and T-cells, which is far more fine-tuned to the nature of the threat.
T-cells have become one focus of scientific investigation. Professor Abraham Pinter of Rutgers Medical School — who has been working to develop monoclonal antibodies, synthetic antibodies that can be developed to anticipate COVID variants — explains why. While antibodies have been relatively successful in identifying the characteristic spike protein of the COVID-19 virus, which is why the vaccines developed to date have been so effective, that singular focus might reduce their efficacy against variants of the current virus. As a recent article in the highly respected journal Nature puts it: "Concerns about coronavirus variants that might be partially resistant to antibody defenses have spurred renewed interest in other immune responses that protect against viruses. In particular, scientists are hopeful that T-cells — a group of immune cells that can target and destroy virus-infected cells — could provide some immunity to COVID-19, even if antibodies become less effective at fighting the disease."
Professor Larman has developed an "unbiased" test to "interrogate" antibodies, which enables him to measure how they react to 11,000 different human proteins. Recently his lab discovered that COVID-19 antibodies could interfere with Type 3 Interferon, a protein that is a crucial component of the body's immune system. (Dr. Rosenberg has published related findings about Interferon.) Dr. Larman believes that a test for such an autoimmune reaction to Interferon could be easily developed based on his methods, and if that reaction exists, then the patient could be given infusions of Interferon to overcome the antibody response.
Honor to Your People
The MITZVA Cohort has created a kiddush Hashem of which its initiators could only have dreamed. The researchers with whom I spoke all stressed that their current COVID-related research would have been impossible without the assistance of the MITZVA Cohort and the samples collected from the thousands of volunteers within the Orthodox community, a fact that is duly acknowledged in each of the many articles now in the pipeline from the nine laboratories associated with the project.
And the fact that so many labs are taking advantage of a common source of samples has made the MITZVA Cohort the catalyst for a rare degree of interdisciplinary collaboration. On one video conference arranged by the Center for Disease Control, 50 researchers from the various labs were present. Dr. Zyskind took the occasion to introduce Rabbi Kaszirer of the Lev Rochel Bikur Cholim of Lakewood to the entire assembly, as the man who had enabled their research. That video meeting was only the first of several, at which the various participants have shared their findings and explored their implications.
At every stage of the process, the founders of the MITZVA Cohort have experienced open siyata d'Shmaya (Heavenly assistance). As Dr. Silverberg points out, one can announce a blood drive and have no one show up, instead of over 3,300 Jews eager to participate in advancing science. And there was no way to anticipate that Dr. Joyner would make an in-kind contribution of over half a million dollars to the MITZVA Cohort's efforts. Nor was there any guarantee that the researchers involved, as distinguished as they might be, would produce the quality of results that they have, with so many potential life-saving applications.
But perhaps that is the bottom line: When one makes the effort to exalt Hashem's name and restore the honor of His people by helping humanity, He will provide all the siyata d'Shamaya required.